Bernard Madoff: JP Morgan warned UK authorities before confession
Unsealed court documents allege bank told the UK's Serious Organised Crime Agency of concerns in October 2008, two months before the fraudster admitted his empire was a sham
Dominic Rushe in New York
guardian.co.uk, Thursday 3 February 2011 23.09 GMT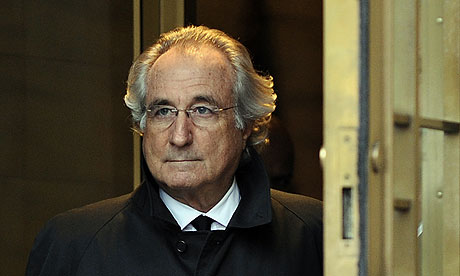 JP Morgan is being sued for $6.4bn over its role in Bernard Madoff's business empire Photograph: Timothy A Clary/AFP/Getty Images


The UK's Serious Organised Crime Agency (Soca) was warned about Bernard Madoff in October 2008, two months before the fraudster confessed that his investment empire was a sham, according to a lawsuit unsealed in New York.
The allegation was made in a suit filed against JP Morgan, one of Madoff's banks, on behalf of the fraudster's victims.
According to the suit, filed by the court-appointed trustee Irving Picard, executives at JP Morgan allegedly told Soca that they were concerned about "investment performance achieved by its [Madoff's business] funds which is so consistently and significantly ahead of its peers, year-on-year, even in the prevailing market conditions, as to appear too good to be true – meaning that it probably is".
The lawsuit, which cites internal emails, claims that employees in the bank's "equity exotics & hybrids" desk found that the so-called feeder funds which brought in new investors knew little about Madoff's operations and asked few questions. "It's almost a cult [Madoff] seems to have fostered," one employee observed.
The suit is damning of JP Morgan's alleged role in the scandal. It claims that Soca was informed by JP Morgan "only in an effort to protect its own investments" and the bank did nothing further to stop the fraud even though it had informed the authorities.
"While numerous financial institutions enabled Madoff's fraud, JP Morgan was at the very centre of the fraud and thoroughly complicit in it," according to the suit. It details ways in which Picard alleges the bank sought to make money from investment funds that fed money to Madoff.
According to the court filing, a senior executive at the bank was told Madoff had "a well-known cloud" over his head and was suspected of running a Ponzi scheme 18 months before his empire collapsed leaving thousands of investors penniless. The 114-page suit claims the bank did not pay attention to billions of dollars passing through the fraudster's main JP Morgan account.
The $6.4bn (£4bn) lawsuit against JP Morgan is one of nearly 60 Picard filed late last year seeking more than $40bn from investors, hedge funds and banks that he alleges made money with Madoff including HSBC, UBS and Citigroup.
Lawyers for JP Morgan had managed to have the details contained in the suit sealed until now. At the time David Sheehan, a lawyer representing the trustee, said: "JP Morgan was wilfully blind to the fraud, even after learning about numerous red flags surrounding Madoff."
A spokeswoman said the bank had no comment but in December, when the suit was initially filed, a spokesman said: "Any suggestion that JP Morgan supported Madoff's fraud is utterly baseless and demonstrably false. Contrary to the trustee's allegations, JP Morgan did not know about or in any way assist in the fraud orchestrated by Bernard Madoff."
• The caption to this article was amended on 4 February 2011. The original said JP Madoff was being sued for $6.4bn. This has been corrected.